Picture this: it's a hot summer day, and you're hosting a barbecue in your backyard. The drinks need to be cold, but your kitchen fridge is bursting with groceries. This is where garage-ready refrigerators come to the rescue. But are garage ready refrigerators worth it? In this article, we'll dive into the world of garage ready fridges, exploring their advantages, drawbacks, and everything in between.
What Are Garage Ready Refrigerators?
Garage ready refrigerators are specially designed to operate efficiently in environments with temperature fluctuations. Unlike your standard kitchen fridge, they can handle the heat and cold that a garage can experience. These fridges come with features like thicker insulation and a wider temperature range, making them ideal for storing drinks, snacks, and extra groceries in your garage.
If you've ever considered adding a fridge to your garage for convenience, you're on the right track. Let's take a closer look at why these specialized fridges might be worth it.
Are Garage Ready Refrigerators Worth it?
Garage ready refrigerators can be a valuable addition to your home, especially if you use your garage for more than just parking your car. They offer convenience, extra storage, and energy savings. While they may come with a higher price tag and the need for occasional maintenance, many users find them well worth the investment.

Read More: 7 Best Garage Refrigerators in 2023 – Top Garage Fridges and Some Tips
Advantages of Owning a Garage-Ready Refrigerator
Convenience: Imagine not having to run back and forth between the kitchen and the garage to grab a cold beverage. With a garage-ready fridge, everything you need is just a few steps away.
Extra Storage: Your kitchen fridge can get crowded, especially when you're hosting parties or stocking up during sales. Best garage refrigerators provide additional storage space for drinks, seasonal items, and more.
Energy Efficiency: These fridges are designed to be energy-efficient, helping you save on electricity bills compared to using a standard fridge in your garage.
Considerations Before Buying
Before you rush out to buy a garage-ready fridge, there are a few things to consider:
Sizing: Ensure the fridge fits in your garage space comfortably. Measure the available area and compare it to the fridge dimensions.
Temperature Range: Check the fridge's temperature range to make sure it can handle your local climate's extremes.
Installation: Some models may require professional installation. Factor in installation costs when budgeting for your new fridge.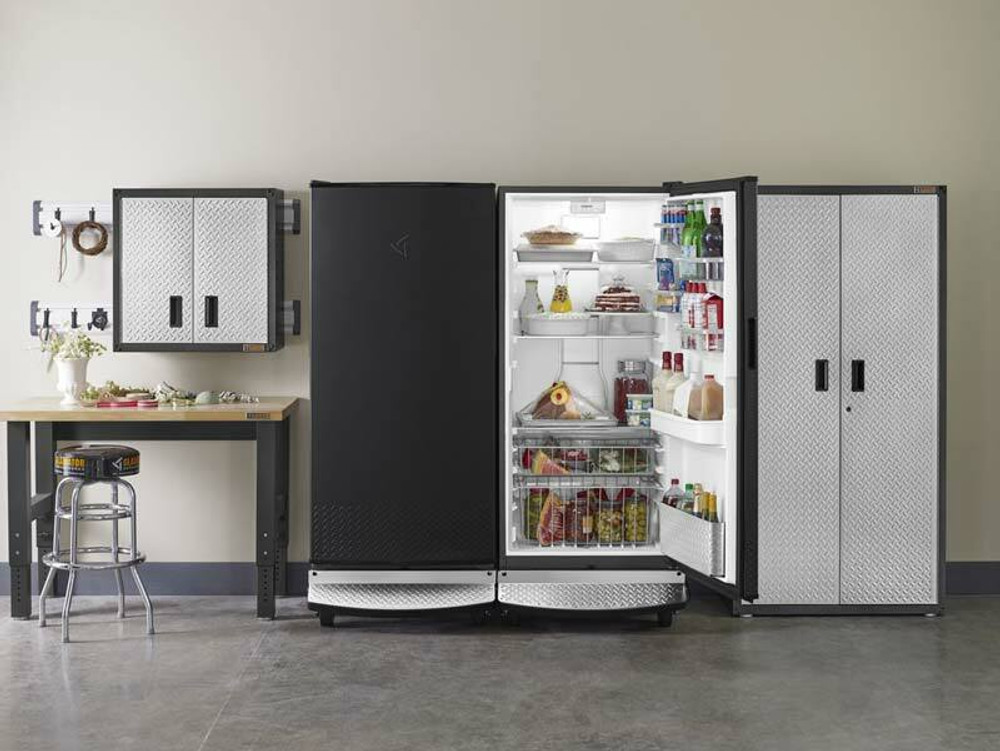 Potential Drawbacks
While garage ready refrigerators offer many benefits, it's essential to be aware of potential drawbacks:
Cost: These specialized fridges can be pricier than standard models. However, the energy savings over time can offset the initial investment.
Noise: Some garage-ready fridges may be noisier due to their robust cooling systems. Consider where you'll place the fridge to minimize noise disruption.
Maintenance: Like any appliance, garage-ready fridges require maintenance. Regular cleaning and occasional defrosting may be necessary.
Maintenance and Care
To keep your garage-ready fridge running smoothly, follow these maintenance tips:
Clean the interior regularly to prevent odors and mold.
Defrost the freezer when ice buildup becomes noticeable.
Check the door seals for leaks and replace them if necessary.
Energy Efficiency
One of the significant advantages of garage-ready refrigerators is their energy efficiency. They are designed to consume less electricity, which can result in cost savings over time. Look for models with Energy Star ratings for even more efficient operation.
User Experiences
Before making a decision, it's always a good idea to hear from others who have owned garage-ready fridges. Users have reported improved convenience, especially during outdoor gatherings. However, some have mentioned the initial cost as a drawback.
Conclusion

So, are garage ready refrigerators worth it? The answer depends on your specific needs and how you plan to use them. If you value convenience and extra space, these specialized fridges could be a game-changer for your home. Just weigh the advantages and drawbacks carefully to make an informed decision. Should you decide to go ahead, you'll be one step closer to enjoying ice-cold beverages in your garage oasis, no matter the weather outside.
Mehedi Miraz is the creative mind behind PrideGadget.com. With an insatiable passion for gadgets, he crafts captivating blog posts that mesmerize readers. His vast knowledge in technology guarantees informative and inspiring content, making him a go-to for gadget enthusiasts everywhere.