Laser printers have become a much better alternative for inkjet printers in recent years. Many offices and schools use laser printers for their faster output and low cost per page. How do they do it? Do laser printers use ink? Unlike inkjet printers, laser printers don't use ink. They use toner instead of ink. What is toner in printer? The toner is the secret behind laser printers' better and faster performance. There are also fundamental differences in the printing process of laser printers. Let's get started.
Do Laser Printers Need Ink?
No. Laser printers don't need ink. They use toner. It's a more modern technology than ink. What is toner? The toner is a fine powder made of plastic (polyester) and iron particles. There are many advantages to using toner. The cost per page for toner is much less than ink. It doesn't dry out like ink when it remains unused. It's perfect for high volume, text-based printing. A toner cartridge can print thousands of pages. It's also faster than ink. Because of these advantages, laser printers use toner instead of ink. Besides, laser printers are not built to use ink. The technology and printing process of a laser printer is completely different from inkjet printers. That's why they are not suitable for using ink. The laser technology is compatible with toner, not ink.
What is Toner in Printer?

Toner is used in laser printers. Instead of ink, laser printers use toner to print documents and images. The toner is a fine mixture of powder used in laser printers and photocopiers to print text and images on paper. The toner is basically granulated plastic, pigment, and iron particles that melt to the paper with special heated rollers called a fuser unit. The powdery substances in toner are electrically charged. As a result, it sticks to anything with the opposite polarity, such as a piece of paper. You can find toners in office supply stores or online. Toners come in a cartridge, which should be inserted into the printer. You can replace or refill a cartridge when it is empty. These toner cartridges last a long time. You can print thousands of pages with a single cartridge.
Does Printer Toner Dry Out?
No. Since there is no ink in a laser printer, there is nothing to dry up. Laser printers use toner instead of ink. As toner is a powdery substance, there is no question of drying out. Unlike the ink of an inkjet printer, the toner of a laser printer doesn't dry out even if you leave it for a long time. It doesn't matter how long you stay away from your printer or how long it stays unused – the toner won't dry out. It'll be usable whenever you want to print something.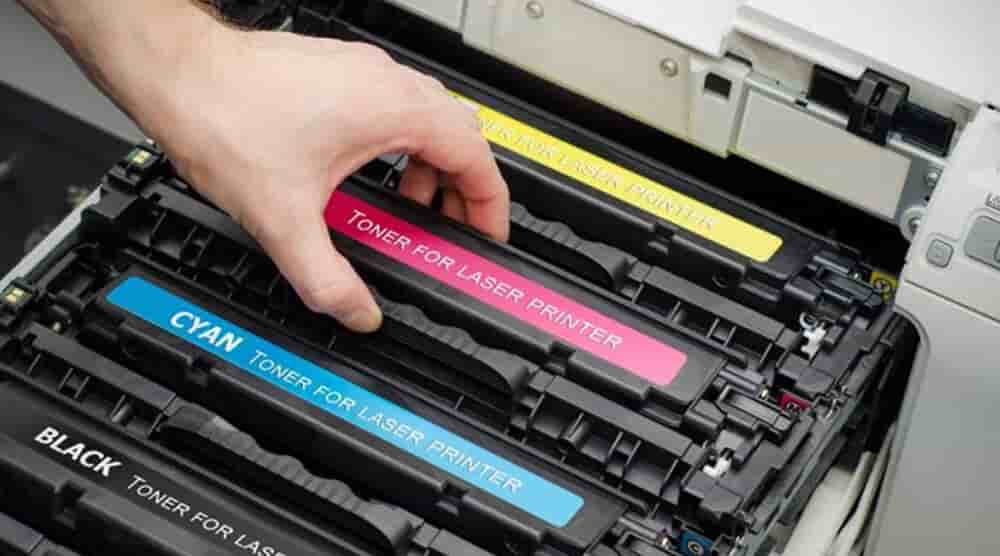 How Long Does a Toner Cartridge Last?
It depends on a number of factors, such as – the size of your toner cartridge, what you print, how often you print, how dense your pages are, etc. A toner cartridge usually lasts a long time. You can easily print several thousand sheets on a single toner cartridge. If you print many image-heavy pages, the cartridge will not last long. Text-based pages, on the other hand, consume less toner. As a result, a toner cartridge lasts a long time if you print text-only, low-density pages. Compared to the ink cartridges, the toner cartridges last way longer.
Can a Toner Cartridge be Refilled?
It depends on the toner cartridge. Some cartridges give you the option to refill, some don't. Refilling a toner cartridge is a complicated process. You may need to hire an expert to refill a toner. However, it's not a good idea to refill a toner cartridge. Most of the refilled toner cartridges don't work right. In fact, manufacturers don't make toner cartridges with refilling in mind. They are made for one-time use. Consult your printer's brand professionals to know whether it'll be a good idea to refill or buy a new one.
Is Ink or Toner Better?
Both of them are good for particular tasks. The inkjet printers use ink, and the laser printers use toner. What are ink and toner? Ink is a liquid substance tinted with pigments or dyes, and toner is a fine powder. Ink cartridges are typically cheaper than toner cartridges. But they don't last as long as the toner. Generally, ink is better for printing color pictures and home use. Toner, on the other hand, is better for printing high volume text documents and office use. Ink dries up if you don't use them. But toner is free from this. Toner stays usable even if you don't use it for a long time. So, both of them have some unique features. It's up to you to decide which one will serve your purpose.
Why is Toner so Expensive?
Toner is not so expensive if you think about the number of pages you can print with a single toner cartridge. The cost per page is less than 5 cents. Other than that, top printer brands spend a huge amount of money on toner research and development to create better toner. There are also labor and material cost to produce perfect toner. Companies also want to make a profit from selling toners because they sell the printers at a low price. Sometimes, without any profit. It's their marketing strategy to make money from the toners, not the printers. The toner is expensive because of these reasons. However, the price is reasonable from a cost per page perspective.
Is Ink Cheaper than Toner?
Yes. Ink is cheaper than toner. However, the cost per page for ink is higher than the toner. That's not the whole thing. Even if the ink is cheaper, you have to buy ink repeatedly to run your printer. Besides, if you don't use the ink on a regular basis, it dries out. As a result, you'll have to buy a new ink cartridge. This pattern goes on. Laser printers and toners, on the other hand, can be expensive upfront, but in the long run, they are cheaper than inkjet printers. The cost per page in a laser printer is one-tenth of what it is for inkjet printers. Generally, a typical laser printer costs around only 3 cents per page.
Conclusion
So, do laser printers use ink? Now you know the answer. The toner is the magic ingredient behind the laser printer's success. It makes printing faster and easier than inkjet printers.