Electric razors are not a novelty anymore. It is one of the most used gadgets for modern men. According to Statista.com, the number of electric shaver users in the US is more than 75 million. And it's increasing every year. When using an electric razor, many of us wonder, how do electric razors work? How does an electric shaver cut our beards so efficiently and smoothly? What are the mechanisms of an electric razor? Well, the technology behind electric shavers is very simple. Let's read how it works.
How Do Electric Razors Work?
There are two main parts in an electric razor to cut the hair. Those are – an ultra-thin, perforated metal foil and a set of tiny blades, also known as undercutter. The function of the perforated metal foil is to cover the oscillating blades of the shaver and to protect your skin from direct contact with the blades inside. The foil also has some tiny holes in it to trap the hair. These holes are smooth on the outside but sharp on the inside. Body hair can enter through the hole to be cut by the sharp blades inside. The set of tiny blades oscillate back and forth very quickly on the other side of the foil. When the hair enters through the metal foil, the sharp blades slice off the hair.
Types of Electric Shavers
There are two types of electric shavers. They are Rotary shavers and Foil shavers. Both of them can give you a clean shave, but a foil shaver can give you a cleaner and smoother shave than a rotary shaver. Rotary shavers are especially suitable for thick, long, and uneven hair. There is also a difference in their design, shaving process, technology, and noise level. But the basic mechanism is the same. Both electric shavers have a thin layer of perforated foil with tiny holes that touches the skin and captures the hair. Then the fast oscillating blades cut the hair inside. The main difference between the two types of shaver is in the shaving process. A foil shaver should be used in a linear motion, and a rotary shaver should be used in a circular motion.
How Does a Rotary Shaver Work?
Rotary shavers, as the name suggests, have three or four rotating heads. Usually, they come with three heads in a triangular shape. Move a rotary razor in a circular motion so that it reaches the deep crevices and curves of your face. The circular motion pulls the facial hair into the shaver and cut them inside with the tiny blades. It is easy to maneuver around the chin and the neck with a rotary shaver. An ideal rotary shaver can get hair in all the nooks and crannies on your face. Rotary shavers are perfect for fast-growing and uneven facial hair. If you don't have a daily shaving routine, and you shave only once or twice a week, a rotary razor will give you the best result.
How Does a Foil Shaver Work?
A foil shaver is named after the foil that covers the blade inside the shaver. The word foil refers to the thin sheets of metal that have tiny holes. In a foil shaver, a thin layer of foil covers its oscillating blades. The thin layer lifts the hair from the skin to cut it neatly. There are three or four blades options in an electric foil shaver. Four blades give you a faster and closer shave than a three blades shaver. You can move the foil shaver in a linear motion, the way you use a standard razor. There is minimal contact between the blade and the skin. As a result, it doesn't cut or irritate your sensitive skin. If you shave every day, and you want perfection for trimming sideburns, mustache, or beard, then a foil electric shaver is the right choice for you.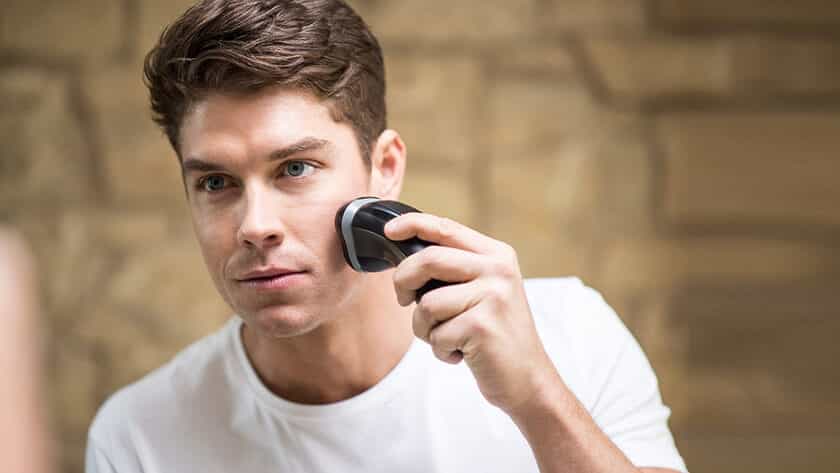 Can You Cut Your Face With an Electric Razor?
It's very unlikely if you use the shaver correctly. The blades of an electric razor do not come in direct contact with your skin. Your skin is protected from the blades by the foil, the thin layer that touches your skin. So, it's less likely that you'll cut your face with an electric shaver. The makers of electric razors are aware of the possibility of cutting your face with an electric shaver. That's why they designed it in a way to protect your face.
Are Electric Shavers Bad for Skin?
Not at all. In fact, electric razors are excellent for sensitive skin. The blades of an electric shaver do not touch your skin. It is the ultra-thin layer of foil that touches and comes in direct contact with your skin. So, there is hardly any chance of skin irritation and razor cuts while shaving.
Do Electric Razors Hurt?
No. Every precaution is taken to prevent an electric razor from hurting us. It's understandable that we think an electric shaver might hurt us. But there is no chance of an electric razor hurting us. As mentioned above, blades do not come in direct contact with your skin. Body hair is trapped through the tiny holes of the foil, and then the oscillating blades inside do their job. Don't press the shaver too hard on your skin. And you'll be fine.
Are Electric Shavers Worth It?
Certainly. If you are a busy person and you need to shave every day, an e-razor is highly worth it. E-razors shave faster than a manual razor. You don't need to get water, shaving brush, shaving cream, foam, or gel to shave with an e-razor. Within a few minutes, you can get a perfect shave anywhere you want. Plus, there is less chance of skin irritation, nicks, and razor cuts with an e-razor. Shaving every day with a manual razor is bad for your skin since the blades come in direct contact with your skin. Electric razors are perfect for daily shavers in every way.
Can Electric Razors Give You a Clean Shave?
Yes. E-razors can give you a clean shave. But not as clean as a safety razor. The blades of an e-razors barely touch your skin. The thin layer of foil comes between the blades and your skin. That's why the e-razors give less clean shave than the manual safety razor. That doesn't mean e-razors can't give you a clean shave. They can. And the level of clean shave they give is enough for most people. The foil shavers are better to get a clean shave than the rotary shavers.
Conclusion
Using an electric razor is easier than you think. You just need to know how to use it perfectly and get used to it.